SCOUT'S LITTLE BLACK BOOK CELEBRATES INNOVATION AND TALENT FROM SOME OF THE BEST SMALL AND CORPORATE CREATIVE BUSINESSES IN AUSTRALIA. THINK SMART, SAVVY, SOULFUL SUPPLIERS AND 'OUT OF THE BOX' BRANDS
A little bit about Monista Tea Co…
Monique McCutchan is a Co-founder of premium loose leaf tea brand, Monista Tea Co (pictured below right with business partner Christa). Their range is comprised of black tea, green tea and organic herbal tea. Monista specialty teas are hand blended in Melbourne, Australia, with ingredients carefully selected from around the globe, including Australia. Monista Tea Co. firmly believe that luxury shouldn't cost the planet. The perfect gift for anyone who loves specialty tea.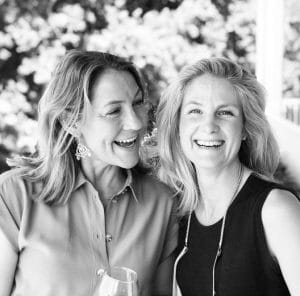 Why we love Monista?
Here at SCOUT we're always on the lookout for unique and beautifully packaged gifts to purchase on behalf of our clients. Monista Tea is high quality, reasonably priced and is the perfect afternoon pick me up for any tea lover. Ordering online is a smooth and efficient process, and delivery is always prompt. I highly recommend MONISTA TEA as the perfect corporate gifting solution to delight your clients, family and friends. An affordable luxury that you will love. 10/10 for customer service too!
Thank you, Monique, for taking time out of your busy schedule to chat with me today. Tell everyone a little bit about yourself….
I'm happiest walking the paddocks in the country with my beautiful family, blending and creating new tea blends with my irreplaceable business partner Christa, and skiing solo in the high country.
How did your idea or concept to start your business come about?
With Dutch heritage, tea is in my blood. I have enjoyed drinking tea since…I can't remember. It was inevitable that I started a tea company.
How did the Monista name come about?
We did not want to use a 'T' or 'Tea' or 'Tee' in our name so we had to think a little harder. Monique & Christa are the co-founders of Monista. I think you can work it out.
Before launching your tea company, what were you doing for work?
I was the Strategy & Insights Manager for Twinings & Co.
What are your top tips to make the perfect cuppa?
Always use fresh, cold water. Loose leaf tea will give you a depth of flavour that a tea bag will never deliver. Make sure you give your tea the required time to steep. A rushed cup of tea will always disappoint.
Which variety of tea is your most popular?
Our French Earl Grey is incredibly popular, followed by Matilda's Lemongrass and Ginger with Australian Lemon Myrtle. My personal favourite is Amsterdam Breakfast.
Where can your tea be purchased from?
Via our online store www.monistatea.com.au and also through selected specialty retail stores across Australia, New Zealand and Singapore.
And lastly, 5 fun facts about you…
Your go-to comfort binge show?
Ted Lasso
Your last drink on earth would be?
A cup of tea with a dash of milk.
My perfect day would start with……
A walk in my garden with a cup of Amsterdam Breakfast tea and my husband.
And end with…
A walk in my garden with a glass of champagne and my husband.
Your first ever job was?
Safeway at the age of 14 and 9 months (the legal working age). I love working.
One thing on my bucket list is…..
To visit Assam in India.
Thank you so much for sharing all your top tea tips with us Monique, I loved chatting with you and learning about your beautiful teas.
Are you ready for an afternoon cuppa? Head over to www.monistatea.com.au and enter code TEALOVER15 at the checkout to redeem 15% discount off your purchase.
Remember that recommendations are my jam, so if it's got the Scout Stamp of Approval, you're in safe hands. Head over to my Little Black Book now to connect with small businesses, caterers, freelancers and other fabulous creative types.
Danielle x